Work
08.15.19
Must Do Rides: San Francisco for Strava
Strava (it's like an Instagram for athletic activity) asked me to dream up a perfect Bay Area bike ride, invite some folks on it (Kim Ngyuen, Roland Blandy, and Caetie Ofiesh), photograph it, then write about it. You can read it here, and I have a slightly more verbose account of the ride and photos below:

San Francisco's immediate access to untouched wilderness, right out your doorstep and across the bridge, has endlessly fascinated me. That said, there are very few paved roads throughout this storied stretch of Marin. The road riding here is phenomenal, but after a couple years, it was beginning to feel a bit limiting in terms of riding options. However, the number of bike-legal trails here are endless: the trail-to-road options in Marin push about 10:1 in my unscientific opinion. Scientifically, there are 300 miles of bike-legal trails far away from cars in Marin.
In order to get a lay of the land, I highly recommend downloading
this Marin County Bicycle Coalition trail map
. Study it, save it to your phone, make it your bible. MCBC did an excellent job with this map, it only shows bike-legal trails and is clearly marked; I refer to it all the time and it will be the best way for you to capably explore all the trail options out there and understand all the different ways to get from A to B.
When Strava asked me to make a Very Nice Bike Ride, I knew I wanted to follow a couple guidelines: Stay on as much dirt as possible, which also meant riding out and back into the city via the Marin Headlands (the conserved land just to the North of San Francisco). I find it to be a mentally 'cleaner' way to begin and finish a ride, especially on weekends, as you completely avoid the mess of tourists and traffic in Sausalito. There are no junk miles and no folks/traffic to battle on this route. I also wanted to pay tribute to some amazing, under-sung trails with nice views, and I wanted to beautifully connect them all. Lastly, I wanted to stop at some great food-focused institutions. We ended up getting to three.
OK, so the ride. After crossing the Golden Gate Bridge, you'll begin through the Marin Headlands. The notion of 'flat' riding doesn't exist in this part of the bay, and riding on trails will often have you climbing 1000-1500 feet per 10 miles. After blazing up and down into Tennessee Valley, you'll do your steepest climbing of the day up Miwok Trail, complete with a set of stairs you can attempt to ride up #ornot. From here, you'll arrive at the top of Dias Ridge Trail, a stunning and technical trail that switchbacks you back down to the ocean.
After a quick pavement climb up Hwy 1, you'll begin to climb away from the ocean and towards the top of Mt. Tam via Coastal Overlook Trail. The grade of Coastal is lovely, consistent, and never too brutal; make sure to stop every so often to check out the views at your back. Once you arrive at Pantoll Station, it's one last quick false-flat trail to West Point Inn, your first food destination of the day.
The West Point Inn is a still-functioning Inn built in 1904. It was a stop along the Mill Valley and Mt. Tamalpais Scenic Railway, where trains met a horse-drawn stagecoach from Willow Camp/Stinson Beach. You can still stay the night here
via reservations
on the website, and it's also a great place to fill up water and relax on the patio. West Point Inn also hosts 6-ish pancake breakfast fundraisers each year, and it's one of the coolest attractions you can visit on a ride in Marin. Be sure to get there early, and bring cash.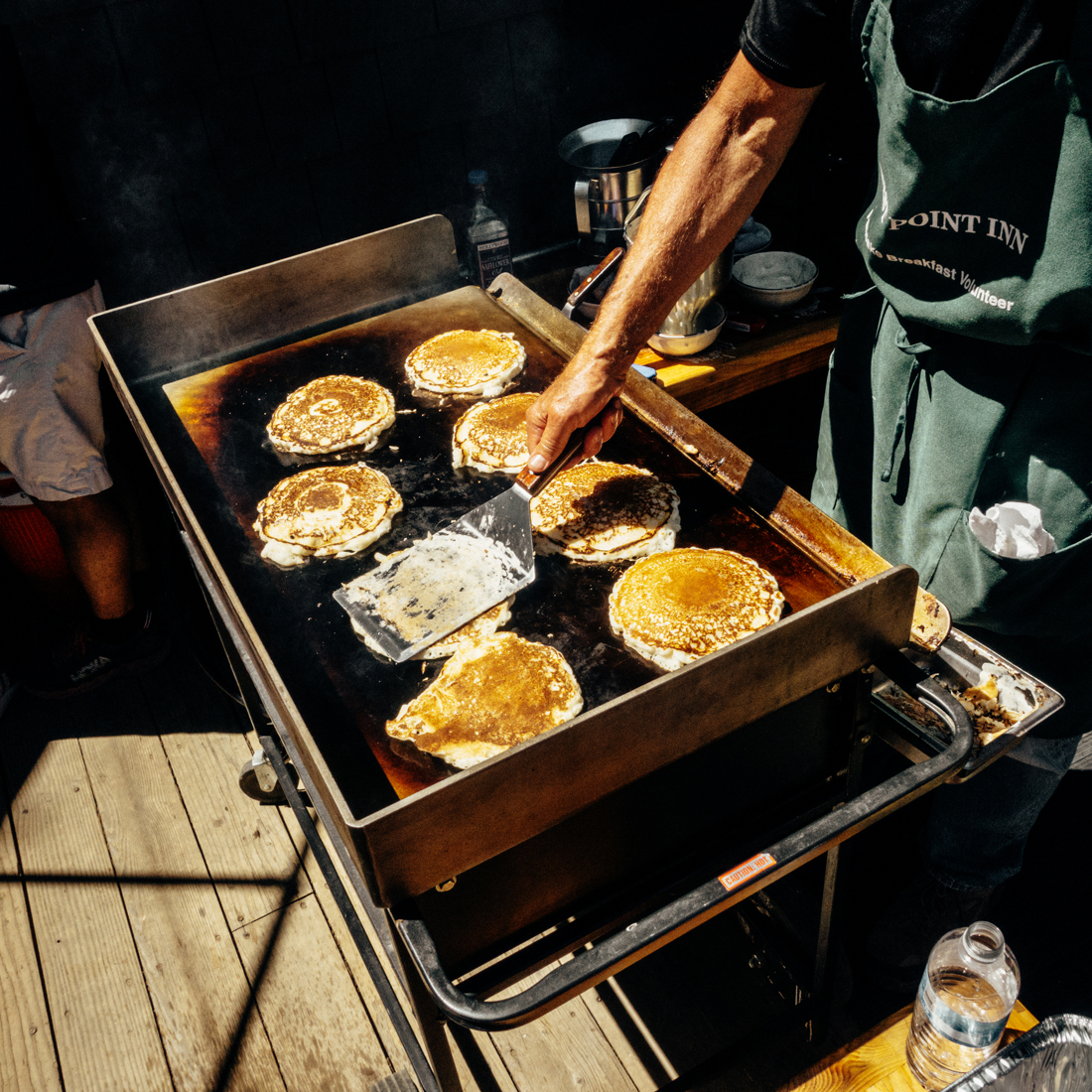 After refueling on pancakes, melons, and diner coffee, you'll finish your climb to the tippy top of Mt. Tam. There are two peaks on Tam: East Peak and West Peak. West Peak used to be the taller of the two peaks, but in the 1950s, the US Military lopped off the top of it to create an Air Force Station, so East Peak is now taller. The facility closed in 1983 and now sits as an empty lot of barrack foundations and concrete slabs (One Tam is working to restore West Peak through
this project proposal
). It's a favorite spot of mine, as it provides unparalleled views to the North, West, and South of Marin.
From here, you're almost done with climbing, and after one last punchy 1 minute effort on Rock Springs Trail, you jam a louie (make a left turn) onto Laurel Dell Trail, one of the prettiest and lesser-utilized connectors in this area. This direction of trail is one of my favorites, and you swoop, dip, and dive through an open meadow and into a dark forest, all the way down to Ridgecrest/Seven Sisters and across to Willow Camp Trail, which will drop you right into Stinson Beach.
One element I love about this route is that it takes you on two trails you may have never ridden on, but that bisect Seven Sisters, a road that tens of thousands of cyclists ride on every year. Heck, you've probably ridden past the Laurel Dell/Willow Camp intersection before and never even known you're passing two world-class trails hidden just beyond your sight. These things get me excited.
A word about Willow Camp: it is very very very steep. It essentially drops you from a high point on Ridgecrest Road straight down into Stinson Beach. I'd say it's essential to have a.) pretty fresh brake pads b.) knobby tires c.) descending prowess d.) a good attitude to do this trail. You kinda need all four. If you don't have em all, I'd recommend descending road down Panoramic all the way to Stinson Beach. If you do have all four, Willow Camp will open you up to some incredible views of the Pacific Ocean and Stinson Beach. It's highly worth it, and you could definitely fry an egg in about 20 seconds on your brake rotors by the time you hit Stinson.
If you're hungry again, I'd recommend stopping at Parkside Cafe for some tasty treats. They have a little coffee window sandwiched between the restaurant and the ice cream/burger counter, and everything there is amazing. Favorites are the pizzas of the day and the cardamom pistachio buns. Like heaven.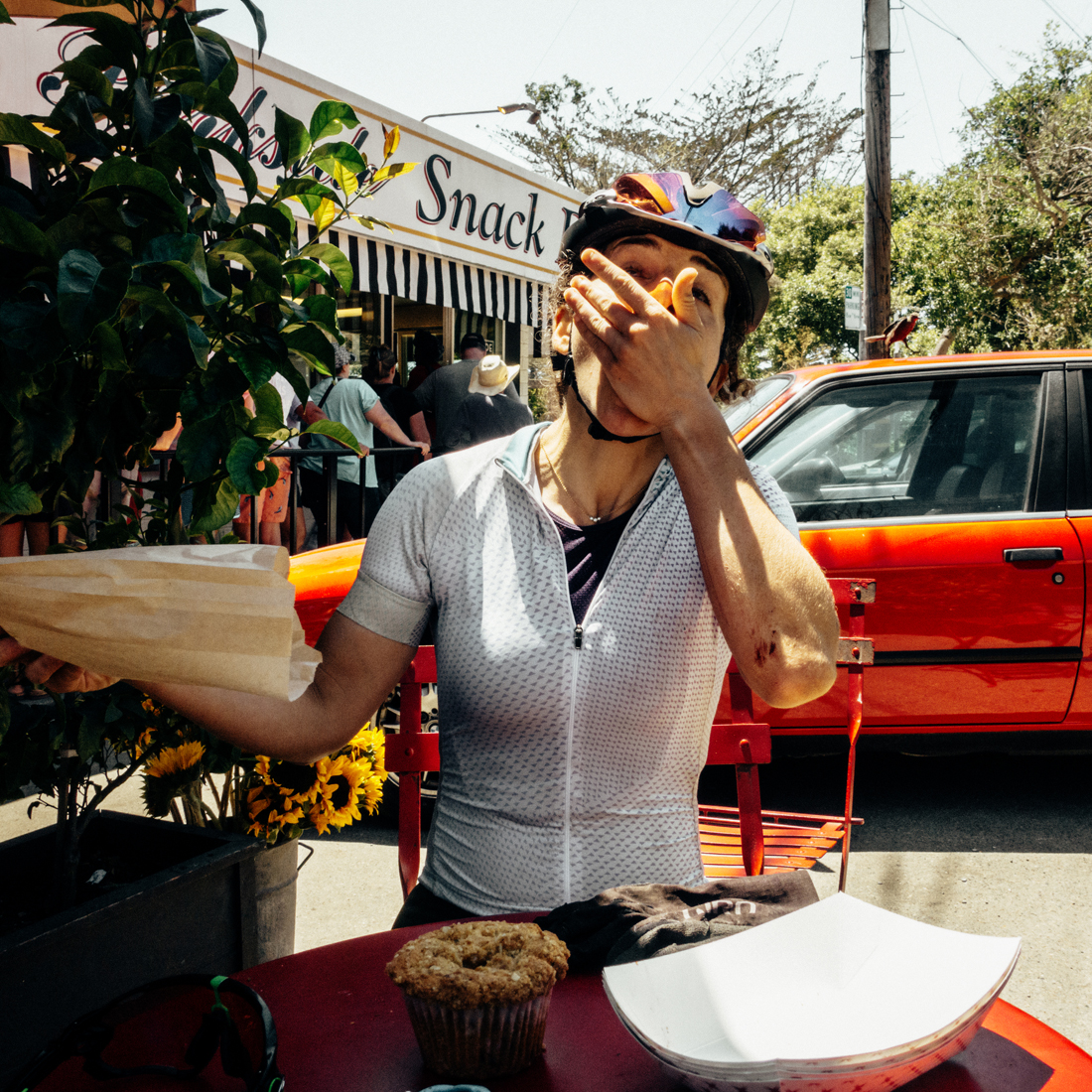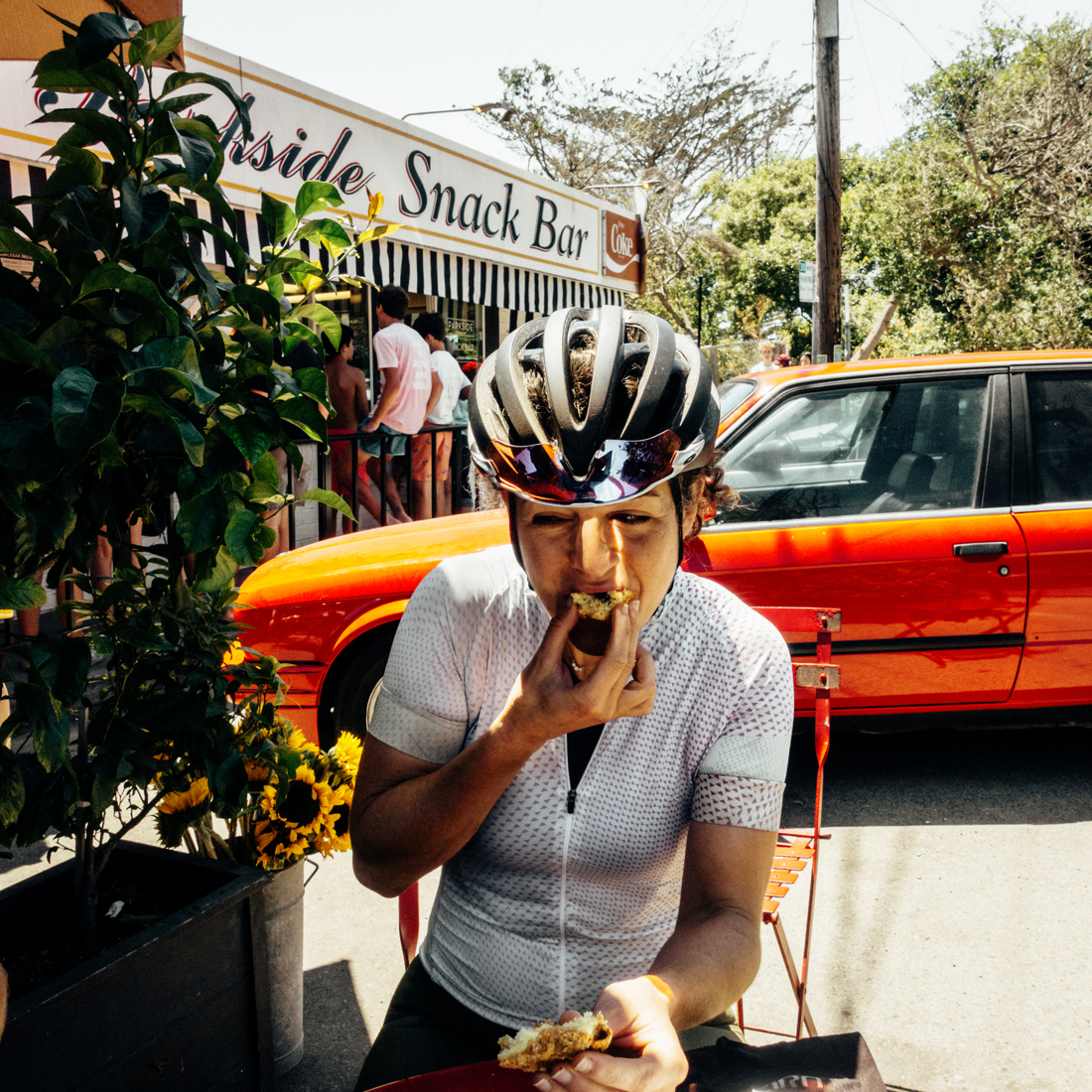 After the quick refuel and re-water, you'll opt to ride a beauteous section of Hwy 1 on your brap brap knobby-tired bike cause it's just so damn pretty. I'm loath to ride near distracted drivers, but the views are so good that all the drivers are indeed looking at the road, and therefore you.
Once you drop back down to ocean level, you'll return to dirt riding the whole way back home. Hang a right as you pass the Pelican Inn, and keep following signs for Middle Green Gulch Trail. You'll pass through Green Gulch Farm Zen Center in order to get to the trail, and you'll pass through two fences they use to keep deers and other animals out of the farm crops. I used to avoid Middle Green Gulch Trail because there's a short but painful 2-3 min effort about halfway up it where you'll wish for two more gears, but aside from that, the trail is generally tranquilly graded and offers some spectacular views to the North. And if you walk the steep section, your secret is safe with me.
At the top of Middle Green Gulch, you'll hang a right and ride your bicycle down the wide, smooth, ribbon-like stretch of Coyote Ridge, rolling along knolls, plunging towards the ocean at 30 mph and really loving life. If you don't feel this way I'll buy you a slice of pizza at Parkside. Your last dirt jaunt takes you up and over back through the headlands, and when you reach the roundabout at the top of Coastal Trail, you're rewarded with views of the bridge as well as the amazing knowledge that you just burned like 3,000 calories so you can eat whatever you want.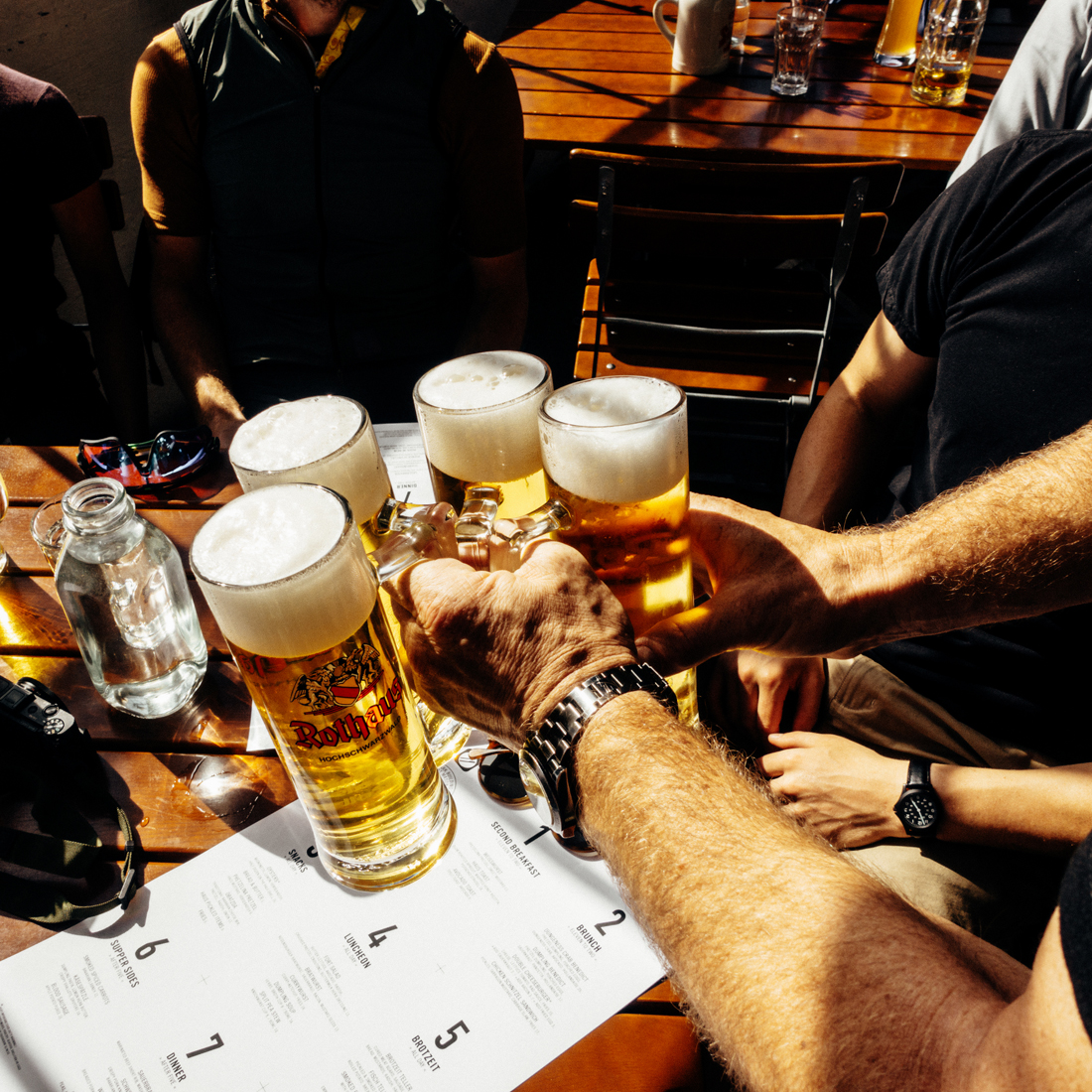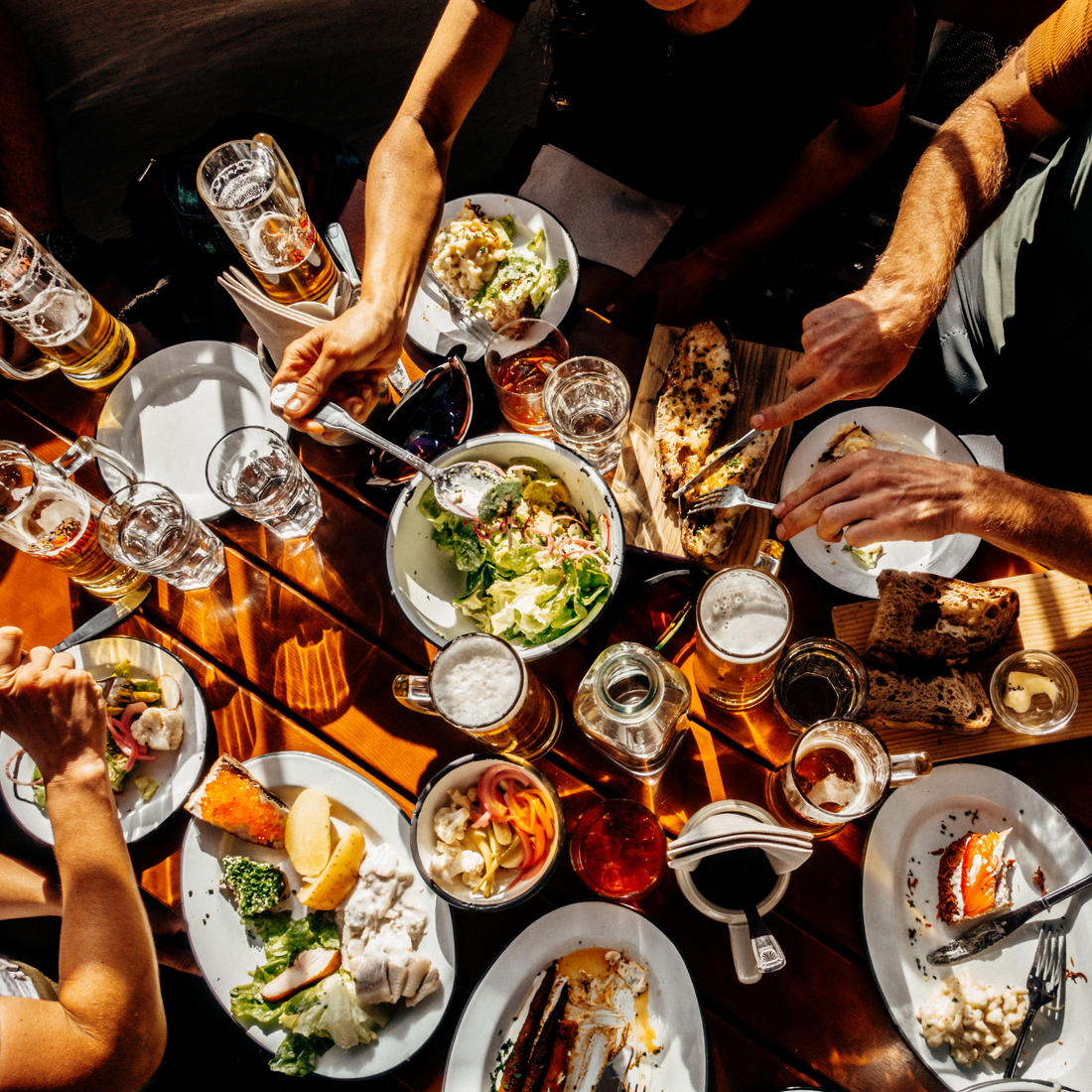 I recommend finishing this amazing/fatiguing/rewarding ride at Radhaus, a bicycle-friendly restaurant run by Aaron Hulme, his twin brother, and his mom. Aaron was a former pro mechanic for the US cycling team, has been a fixture in the SF cycling scene for over a decade, and has made Radhaus feel like a Bavarian bierhall/restaurant airlifted and set down in a stunning, bright, waterfront space overlooking the San Francisco Bay. To finish a ride here is magical and restorative, with tall cold glasses of hard-to-find beers imported from Germany and healthy yet rib-sticking food that will replenish you from the ride and help you along on that final jaunt home.